OPEN EDUCATIONAL RESOURCES IN GERMANY STATE OF DEVELOPMENT AND SOME INITIAL LESSONS LEARNED
Palavras-chave:
open educational resources
Resumo
This article is based on a comprehensive report published by UNESCO IITE in September 2018 (Orr, Neumann, Muuß-Merholz, 2017). It summarizes the current state of OER in Germany and its development within the last five years. After a short introduction to the German educational system and its wider policy environment (see below 2), a short quantitative overview of the German OER landscape (see below 3) as well as a exemplary review of several OER initiatives will be provided (see below 4). Following, special emphasis will be given to an introduction to the current OERinfo-funding line (see below 5). 
Referências
CDU, CSU & SPD (2018): Ein neuer Aufbruch für Europa, Eine neue Dynamik für Deutschland, Ein neuer Zusammenhalt für unser Land - Koalitionsvertrag zwischen CDU, CSU und SPD, 19. Legislaturperiode. Retrieved from: https://www.cdu.de/ system/tdf/media/dokumente/koalitionsvertrag_2018.pdf?file=1.
Kultusmininister Konferenz & Bundesministerium für Bildung und Forschung (2015): Bericht der Arbeitsgruppe aus Vertreterinnen und Vertretern der Länder und des Bundes zu Open Educational Resources (OER). Retrieved from: http://open-educational-resources.de/wp-content/uploads/sites/4/2015/03/BMBF-KMK-Bericht-zu-OER.pdf.
Kultusminister Konferenz & Bundesministerium für Bildung und Forschung (2017): DigitalPakt Schule von Bund und Ländern, Gemeinsame Erklärung. Retrieved from: https://www.dstgb.de/dstgb/Homepage/Aktuelles/2017/DStGB%20zu%20den%20Eckpunkten%20der%20Bund-L%C3%A4nder%20Vereinbarung%20%E2%80%9 EDigitalPaktSchule%E2%80%9C/Ergebnis_Eckpunkte_St-AG_230517.pdf.
Landesbildungsserver & Deutscher Bildungsserver (2016): Selbstverpflichtung der Landesbildungsserver und des Deutschen Bildungsservers zum Thema Open Educational Resources (OER). Retrieved from: http://wiki.bildungsserver.de/ bilder/upload/OER-Stellungnahme-der-Bildungsserver_20160616.pdf.
Orr, Dominic, Neumann, Jan, Muuß-Merholz, Jöran (2017): German OER Practices and Policy — from Bottom-up to Top-down Initiatives. Retrieved from: https://iite.unesco.org/publications/3214746/.
Surmann, Caroline (2017). Open Education und Open Educational Resources — Deutsche und Europäische Policy im Überblick. Fachmagazin Synergie, (3). Retrieved from: https://uhh.de/2dxy1.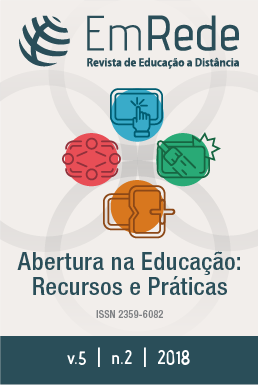 Ao submeter um artigo à revista EmRede e tê-lo aprovado, os autores concordam em ceder, sem remuneração, os seguintes direitos à EmRede: os direitos de primeira publicação e a permissão para que EmRede redistribua esse artigo e seus metadados aos serviços de indexação e referência que seus editores julguem apropriados.
Em virtude de aparecerem nesta revista de acesso público, os artigos são de uso gratuito, com atribuições próprias, em aplicações educacionais e não-comerciais.
Licença Creative Commons - Atribuição-Não Comercial-Sem Derivações 4.0 Internacional.